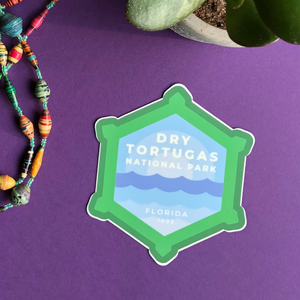 Dry Tortugas Vinyl Sticker
Show your love for Dry Tortugas National Park with this durable vinyl sticker! Perfect for laptops, journals, passports, water bottles, your car ... anywhere you want to show off your favorite national park! 
Size: 3.75" in height
Durability: Vinyl sticker made with laminate that protects from scratching, rain, and sunlight.
Fun Fact: Dry Tortugas contains mostly water and seven small islands 70 miles west of the Florida Keys. Visitors can explore Fort Jefferson, a structure that was built to hold prisoners of the Civil War. Despite not being completed, the structure is still considered the largest masonry structure in the western hemisphere!